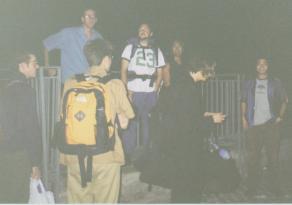 At left: The residents of Via Luciano Manara 15 wait at the Ponte Sisto for the bus to Venice.
After we successfully made it through the first couple of crits of the quarter, first major party of the quarter, and I finally made it through the bureaucracy to get a replacement airplane ticket back home (pesky details all), the entire lot of us awoke at Oh-Gawd-Thirty on Monday, October 13 so we could catch our chartered bus to Venice. With a departure time of 6:30 AM, today there was to be no last-minute straggling, and all of us met up on time and got on board for the long trip northward.
Also right on schedule for this long trip northward was, of course, more classwork -- the group of Seniors was expected to formulate a Senior Statement that would become the core of our thesis work while in Italy (and presumably for any remainder of the class year spent stateside afterward). By this time, I had grown completely accustomed to e-mail not only as a means of communication but also as a means of obscuring communication, and my Statement reflected ... er, tried to reflect, this ambiguity.
Early in the afternoon we arrived in Padova, much to my surprise -- I thought this part of the trip had been cancelled because of the recent earthquakes (and there had been another earthquake just last week, possibly while we were drawing at the Capitoline Museums). But lo and behold, we parked near the Arena Chapel for our chance to view Giotto's amazing frescoes which cover nearly every available space on the walls inside.
Alas, like most of the major sites in Rome, the Giotto frescoes were undergoing a massive restoration and protection project -- I'm not sure how much of this had already been going on and how much was started after the recent earthquakes -- so many of the frescoes were completely shrouded and those that were not were being treated so delicately that only bare eyes could be laid upon them. Cameras were strictly forbidden, but I'm sure you can see images of the artwork by running a web search for "Giotto" "fresco" and "Padua."